The Asset Management CRM Your Firm Needs
Your business is complex and its needs are unique. That means you need a CRM solution that adapts to your requirements and not the other way around.
Why You Need a CRM
The more successful your business becomes, the more complex the client relationships you need to nurture. Our software for client management provides you with the tools you need to store and access client data, as well as keep an eye on their financial assets.
CRM System for Asset Management Firms
Most CRM systems take a generic approach to client management. They don't adapt to your business, which may work in less complicated fields, but not for asset management. What you need is a specialized solution built from the ground up with your unique business landscape in mind.
We Have What Your Firm Needs
Unlike other CRM systems, Clientele Center was built with asset management in mind. Here's what that means for you: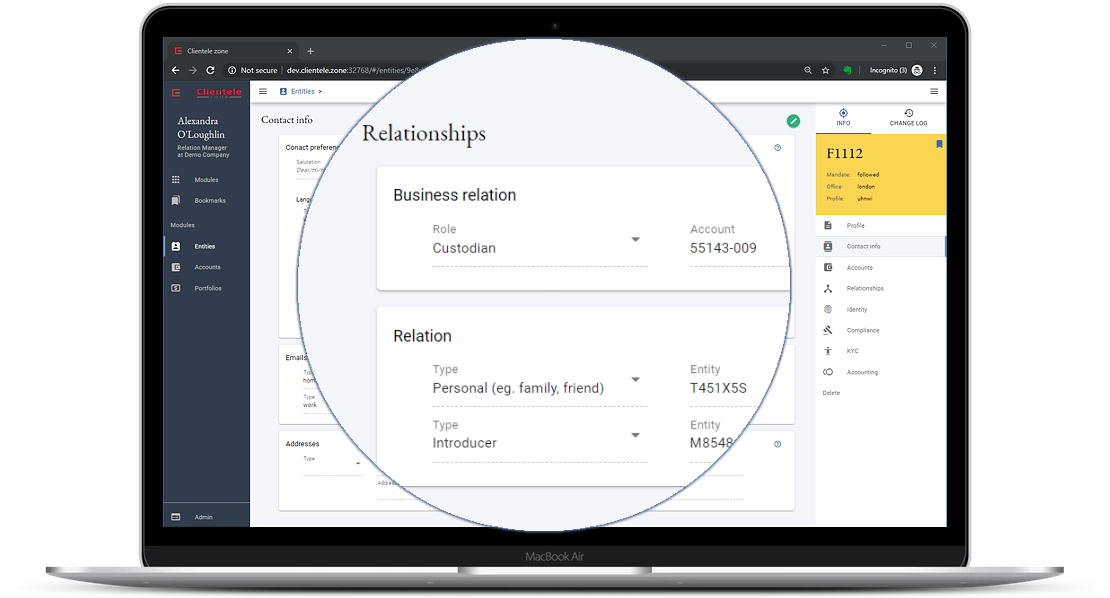 Complex relationships
Complex financial relationships are your day-to-day business, so you need a CRM that enables you to simplify those links. With Clientele Center, you can assign relationship and portfolio managers, specify linked 3rd party businesses, make a note of personal links, and so much more.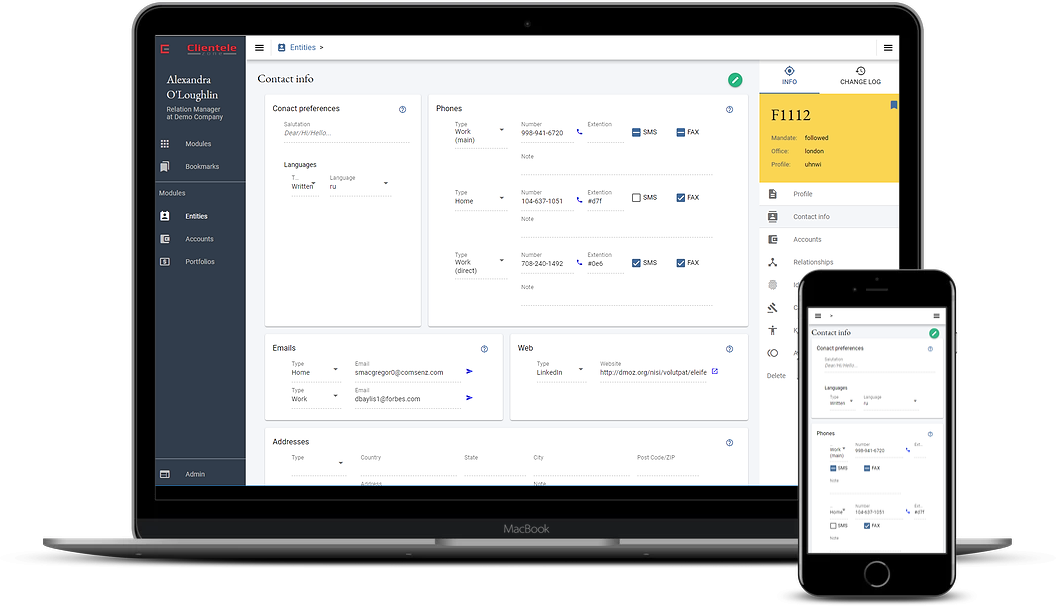 Omnichannel
You require access to sensitive information at a moment's notice, no matter where you are. Clientele Center enables you to check client profiles on the go from any of your personal devices, while still keeping information safe.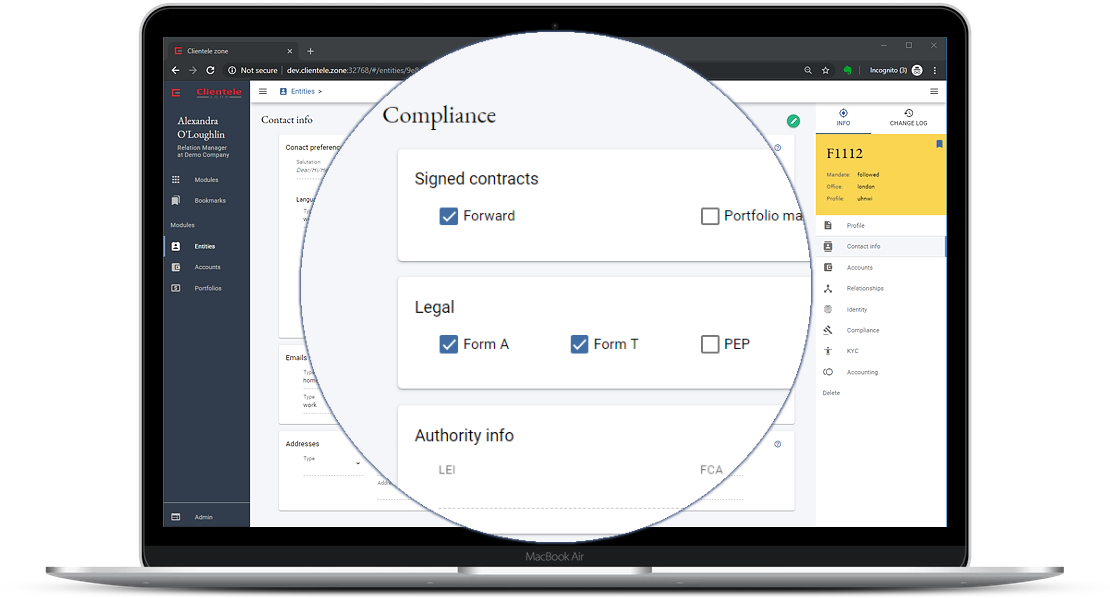 Compliance & KYC
Keeping up with regulations and compliance requirements is a full-time job. With Clientele Center, you can keep track of all these requirements in one place. We can aid you in adapting the system so that your business remains compliant with new regulations.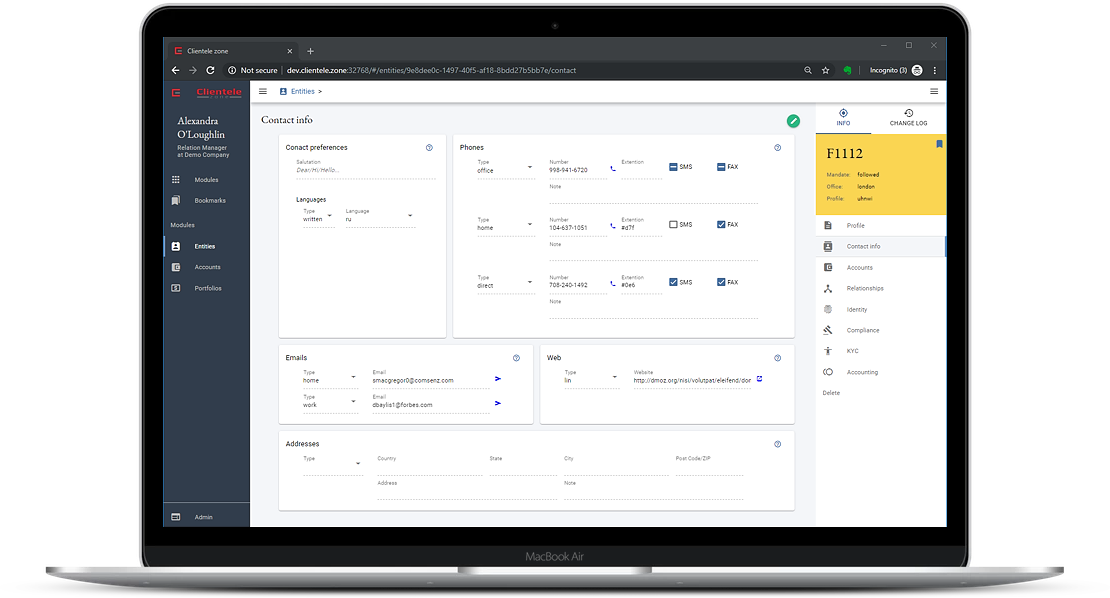 Data-driven
Decision-makers rely on data to make smart calls. That means you need a CRM platform that provides you with a holistic view of client information so that you can arrive at better insights than your competitors. (coming soon)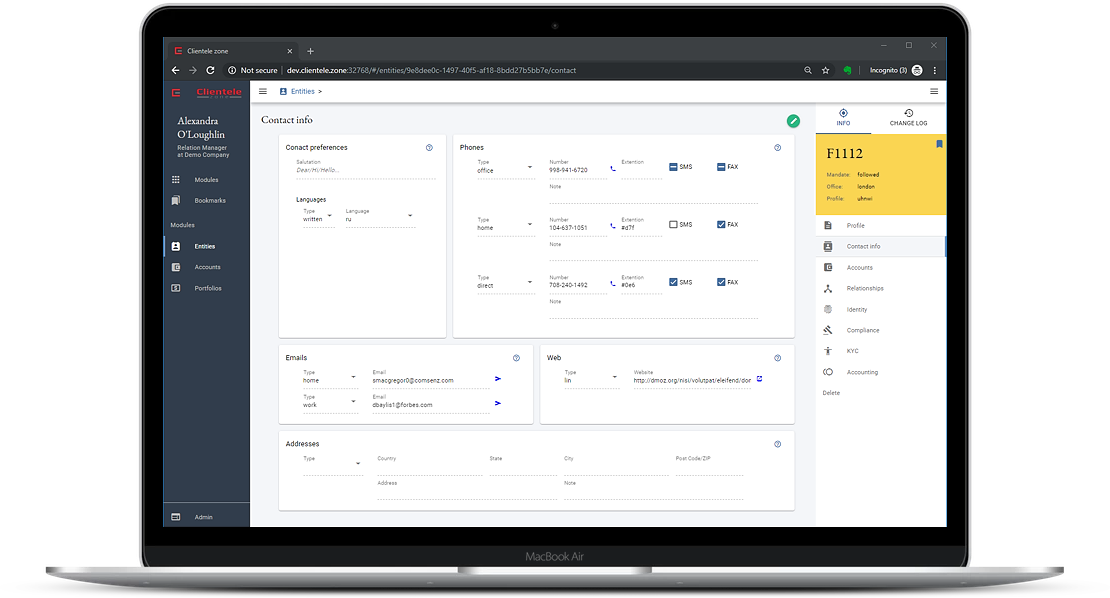 Client experience
Happy clients are more likely to stay within your firm, and in today's tech age, customers expect a better level of digital customer service than ever. We help you manage the digital end of customer service by giving you access to all the data you need. (coming soon)
The Added Values of Using Our CRM Platform
Software should make your life simpler and improve your business' bottom line with clear-cut benefits.
With Clientele Center, your asset management firm can increase its:
Productivity

Spreadsheets are powerful, but a modern CRM is a much better solution when it comes to complex client relationships.

Efficiency

The more clients you have, the more time you spend simply managing their data. That's time you could spend on valuable research and outreach, and with our CRM system, you can reclaim it.

Flexibility

Flexible CRM platforms adapt to your business, so your office doesn't grind to a halt as your team learns the ins and outs of new software.
Hassle-Free Implementation Process
Implementing a CRM system can be very time-consuming.
Traditionally, transitioning into a new CRM system can put a lot of stress on your office. Here's how we avoid that problem:
Analysis
We take a look at the way you work so that we can adapt to your process.
Setup
We set up and configure our CRM system, so it fits your unique needs.
Enjoy
You get to hit the ground running, with a painless implementation process.