Manage Your Clientele the Smart Way
Give your clients the level of service they deserve by using a smart family office CRM. Clientele Center is a specialized family office CRM that focuses on needs of Investment Management firms.
Why You Need a CRM
As a family office, you need a deeper level of understanding of your clients. Managing investments and wealth for a family requires a high level of trust, which you can only build through efficient communication and knowing what your client's needs are. With a family office CRM, you always have full access to all the information you need to make smart decisions.
CRM for Family Offices
You can't run an efficient business by using off-the-shelf solutions. A family office needs software for client management that's secure and enables you to regulate all your client's data efficiently. Clientele Center was designed with your type of business in mind, and we make sure the platform is always in compliance with the ever-changing regulations.
We Have the Tools You Need
Here are some of the unique features you get access as a Clientele Center user: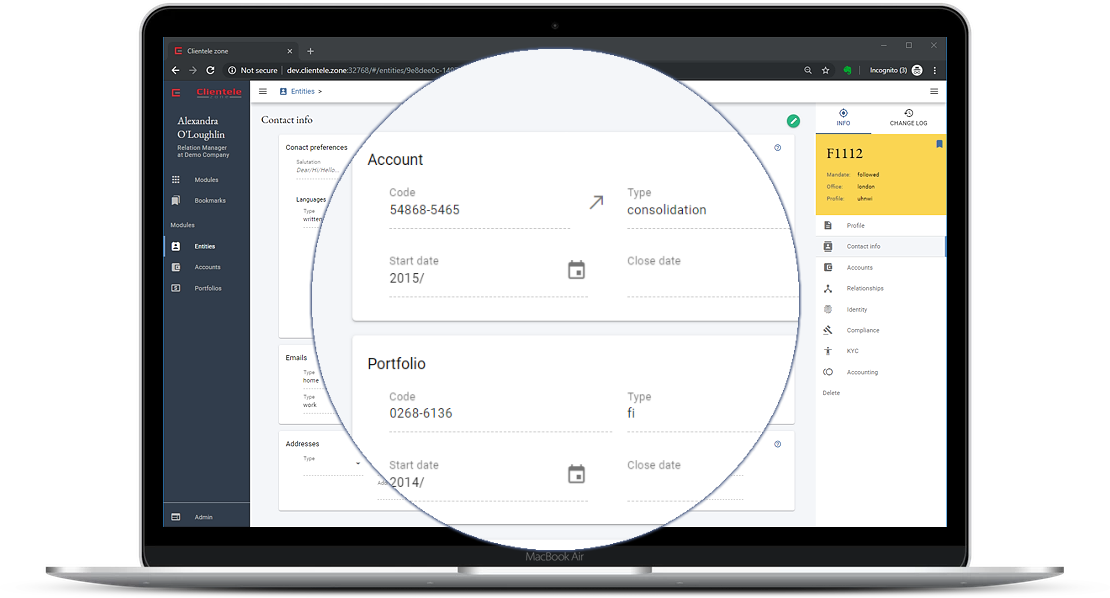 Accounts & Portfolios
Portfolios are the backbone of any wealth management firm. With other CRMs, you get generic tools that aren't equipped to handle complex financial relationships. Clientele Center enables you to manage intricate family funds, create sub-accounts, set up co-ownership scenarios, and much more.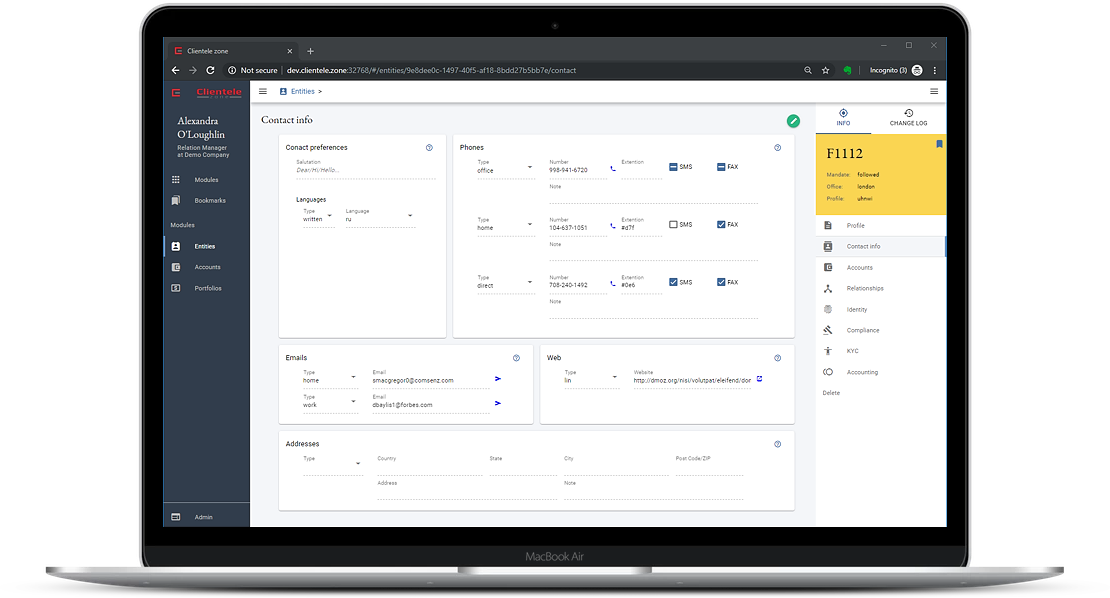 Privacy & Security
You handle a lot of sensitive information which means you need to use a system that's built from the ground up with privacy and security in mind. With Clientele Center, your family office can keep sensitive communications secure and control who has access to what information within your office. (coming soon)
The Added Values of Using Our CRM Platform
Family offices are often behind the times when it comes to using new software, but you don't have to follow that trend. Here's how your business can benefit from using Clientele Center:
Productivity
An office is only as productive as the tools its team uses. With Clientele Center, you always have access to the information you need to make smart decisions for your clients.
Efficiency
With our family office CRM, you can reduce costs associated with governing and managing customer information in the goal of increased operational efficiency.
Flexibility
Systems should adapt to your business—not the other way around. Clientele Center provides you with an agile system that can adapt to your unique needs.
Hassle-Free Implementation Process
All that time your team spends adapting to a generic CRM means you're not giving the families in your care the best possible service they deserve. We understand that, so Clientele Center adapts to your business to keep the implementation process as hassle-free as possible.
Analisys

We take a look at how your office approaches business and what you need from a family office CRM.

Setup

We set up and configure the system so it adapts to your unique needs.

Enjoy

You get to enjoy a tailored system that enables you to provide a better level of service.