Wealth Management CRM: A Necessary Solution
Clientele Center is a specialized Customer Relationship Management (CRM) solution built from the ground up with wealth management firms in mind.
Why You Need a CRM
Your business is intricately connected to customer relationships. Without a holistic view of your client's data, managing those relationships can be much more difficult. Many firms rely on simple spreadsheets or generic software, but CRMs offer you a wealth of tools to store data and communications, providing more efficient solutions.
CRM for Wealth Management
Most businesses can benefit from a robust CRM system. However, your line of work has more strict requirements when it comes to data governance, protecting client security, and the features you need from a CRM. Clientele Center is a CRM built with wealth management firms in mind, and it shows once you take a look at the features we offer.
We Have the Features Your Business Needs
Here are some of the features you won't find in generic CRM systems: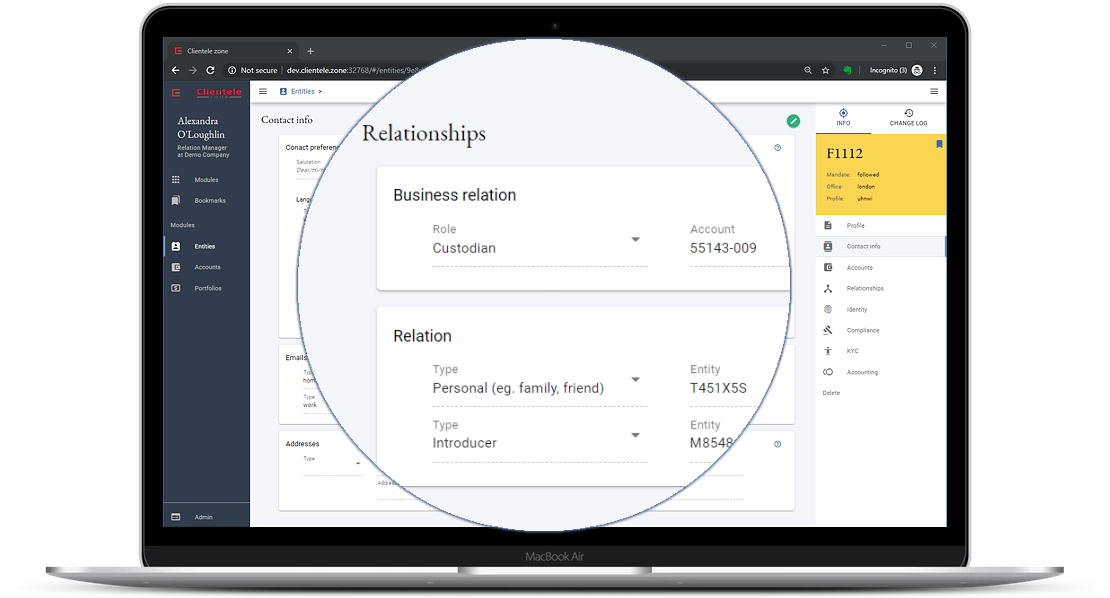 Complex relationships
Wealth management is as all about connections. If your clients trust you, they'll refer more business your way, so you must never lose track of connections.
With Clientele Center, you can store all the customer information you need and give access to the people that need it, all in a moment's notice.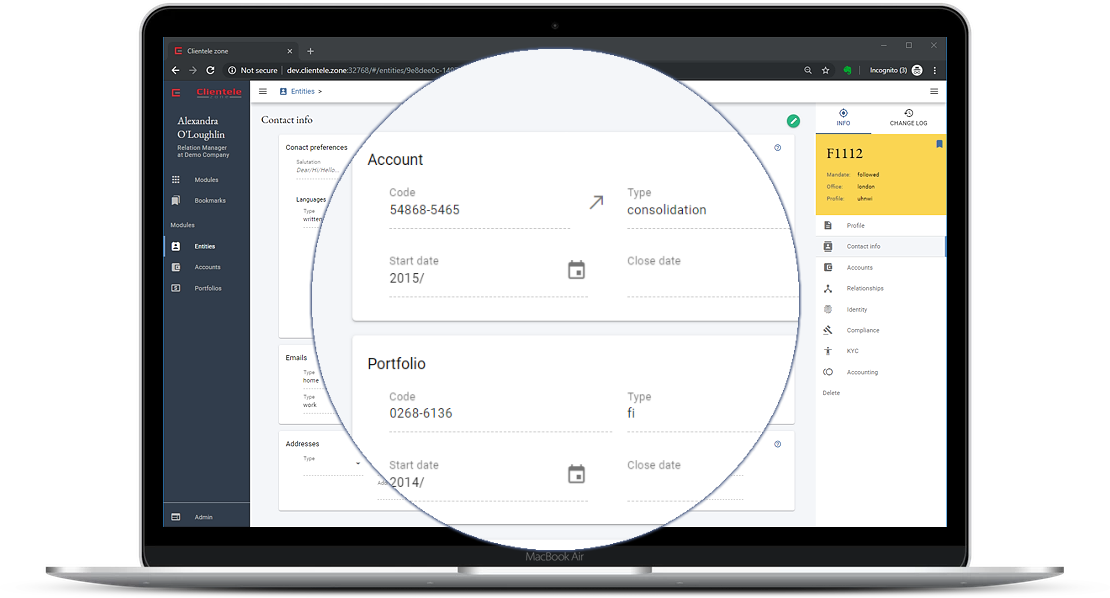 Accounts & Portfolios
Generic CRM systems aren't equipped to deal with financial portfolios or complex accounts structure. Clientele Center, on the other hand, is designed to help you manage high-level financial accounts. Our system is equipped to help you make sense of complex financial arrangements such as investment accounts, partial ownership setups, and more.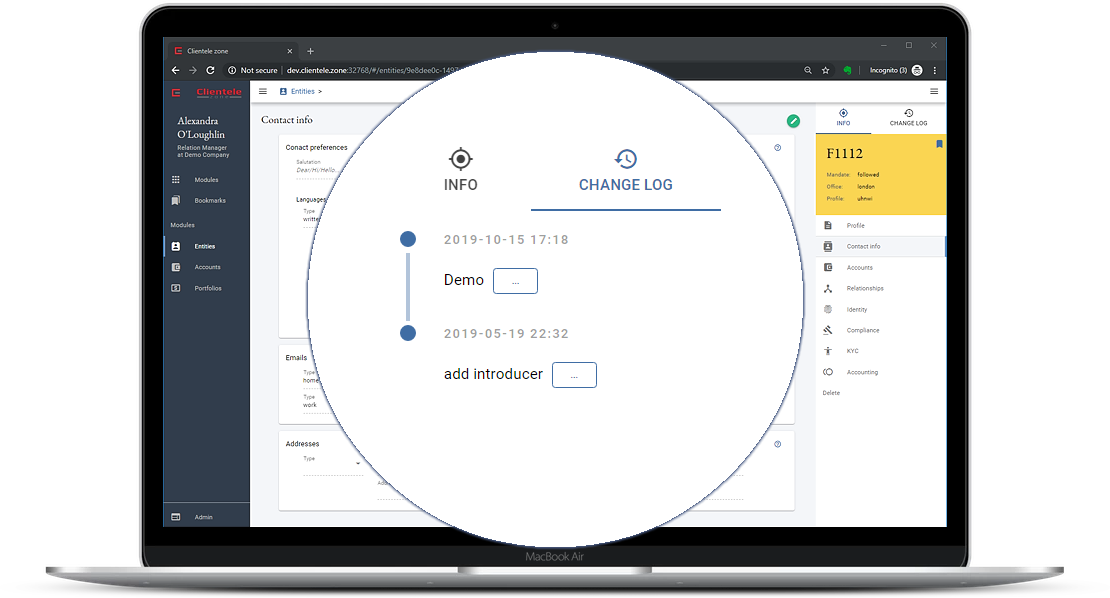 Audit log
When you're handling sensitive financial information, it's important to keep track of who has access to that data and what changes they make. Our system enables you to audit all the changes to every account under your umbrella.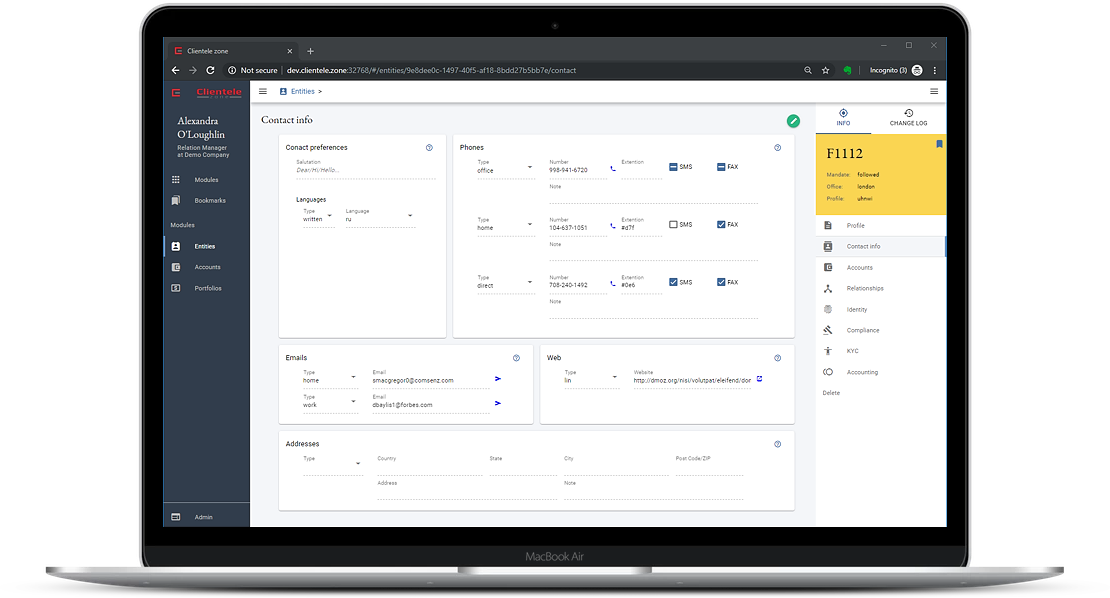 Holistic view of clients
In today's world, HNWIs don't invest only in exchange-listed products anymore. Your clients expect 360-degree advice from you, including their alternative and digital assets or private equity investments. Thanks to the easy integration and aggregation capabilities of our system, you can have a hilistic view of your clients' data and positions. (coming soon)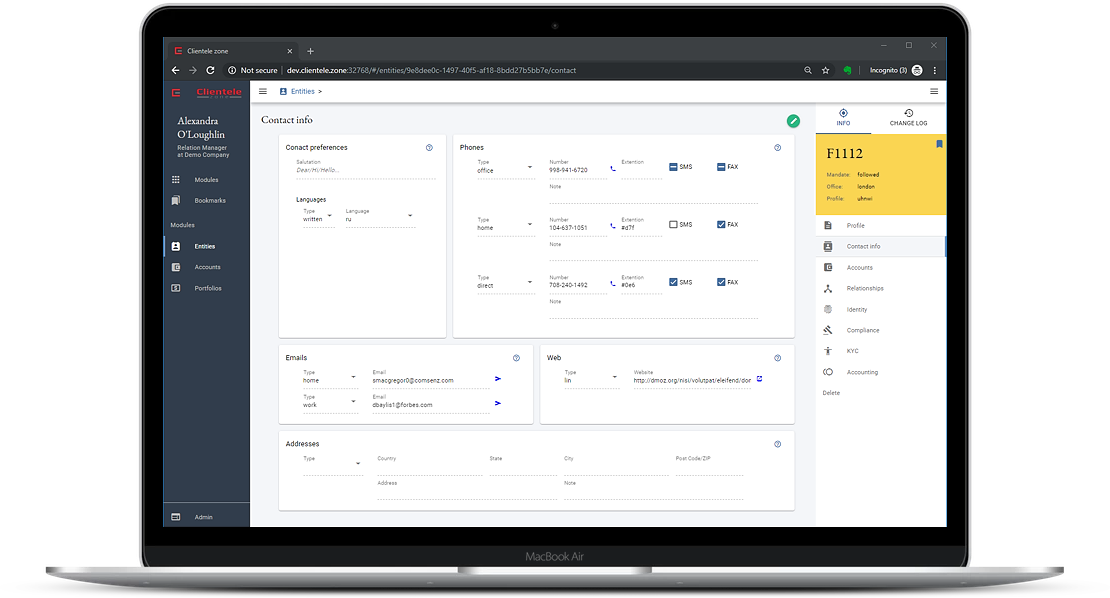 Analytics
Wealth management firms handle massive amounts of data every day. You need to make sense of all that information, which is why using a unified CRM with in-depth analytics can be a huge asset for your firm. With our technology, you can better understand all that data, which will lead to valuable (and profitable) insights. (coming soon)
Are you ready to get started?
The Added Values of Using Our CRM Platform
The benchmark of any software for client management you use is that it should make your life simpler. Clientele Center can boost your business by increasing:
Productivity
Having all the information you need at your fingertips enables you to make smart decisions faster. With a powerful CRM, you'll be able to get new insights out of your system.
Efficiency
Using our software for client management cuts down on operational redundancies, reduces your data governance costs, and improves the quality of your records.
Flexibility
Unlike generic CRM software, our system adapts to the needs of your business. We also help you adapt to ever-changing regulations, so your business is always in compliance.
Hassle-Free Implementation Process
With other CRM systems, your business needs to adapt to the software. That often involves several months of onboarding, depending on how complex your business is.
We believe in providing a CRM solution that ready for you to use. Here's how our implementation process works.
Analysis

We analyze your workflow to identify the areas where our CRM system can benefit you the most.

Setup

We set up and customize your new CRM solution, so you don't have to navigate complex documentation.

Enjoy

You can hit the ground running and keep providing your clientele with the quality of service they deserve, now with a better system.